Pricing
Whether you are an early or late bloomer, you can count on
MRA as a financial partner that is fully committed towards
helping you reach your financial goals.
Let's Talk
Flexible subscription services for all life stages
MRA Planning subscription fee will be waived for a MRA wealth management account of $1 million plus.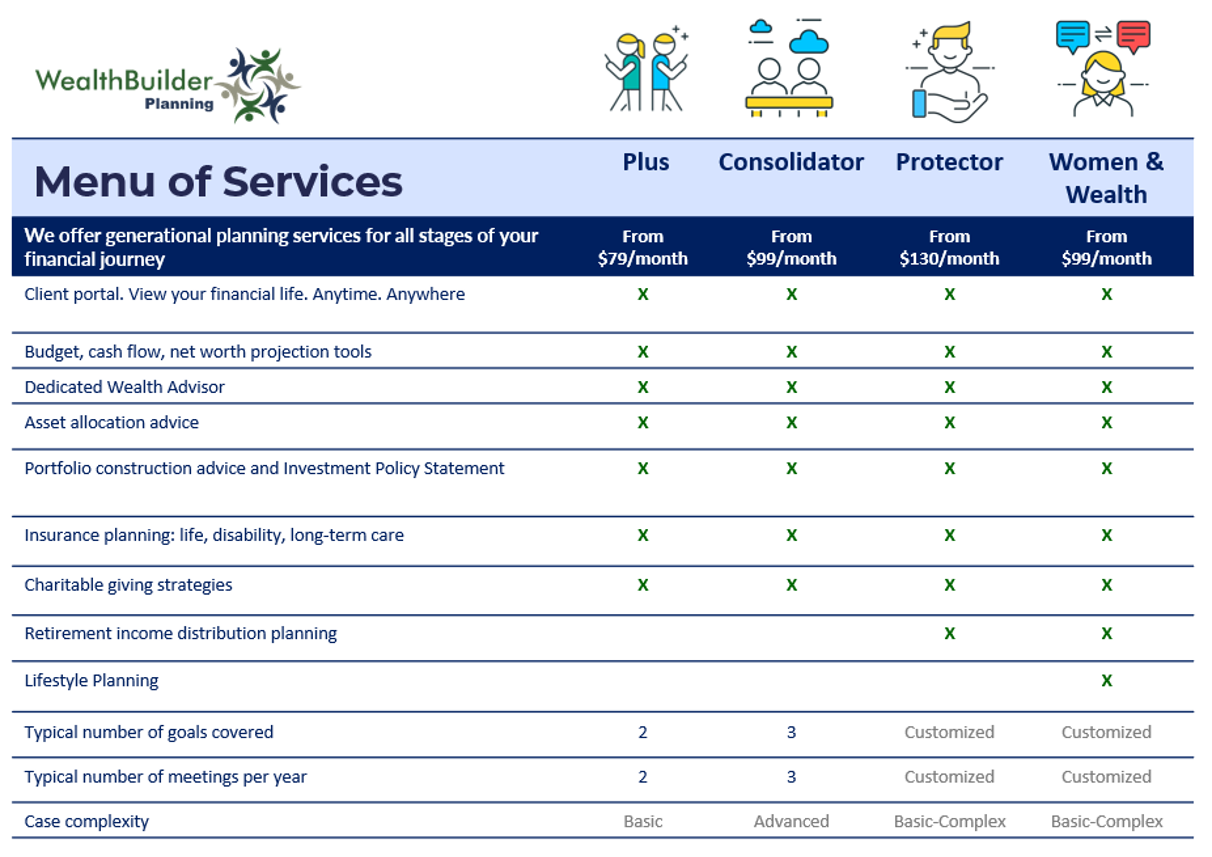 Investing
Risk-based investment portfolios, custom stocks and bonds, and alternatives available based on net worth complexity and assets under management.
We don't charge commissions. We charge an annual investment advisory fee ranging from 0.40% to 1.50% based on service model selection, portfolio complexity and assets under management.* 

401K and 403B Advice
Personalized investment advisory services for certain accounts such as 401Ks, 403Bs, IRAs and annuities held away from our firm.
Annual investment advisory fee ranging from 0.40% to 1.50%.*

Alternatives
Alternative value-add investment strategies in real estate available to accredited investors.** 

Taxes
Tax planning and preparation starting at $49/month
Estate Planning
Document Preparation Services
Trust, Certification of Trust, General Transfer, Financial Power of Attorney, Medical Power of Attorney or Advance Health Care Directive, HIPAA Release, Will 
Starting at $750
Schedule a free second-opinion 

video call 

with one of our fiduciary advisors
What to expect:
A

 friendly and knowledgeable staff who understands the financial issues of your generation

Confidentiality about your financial situation

Professionals who work in a fiduciary capacity

An open conversation about your financial goals and dreams

An initial assessment of any "financial blind spots" which may be in the way for you to achieve your financial goals

Disclosure on how we are compensated and an outline of how we can partner with you to help you reach your financial goals
– Case complexity is determined by a combination of meetings per year, number of goals and net worth structure.
* See ADV Brochure for additional details.
**Accredited investors. In the United States, to be considered an accredited investor, one must have a net worth of at least $1,000,000, excluding the value of one's primary residence, or have income at least $200,000 each year for the last two years (or $300,000 combined income if married) and have the expectation to make the same amount in the foreseeable future.