Nick Pirsos, Wealth Advisor at MRA Advisory Group, gives his thoughts on the market. Below is Nick's August recap. Nick offers a complimentary first meeting (via the link below), learn more about him and schedule your complimentary meeting today for assistance in positioning your portfolio for the fast changing business climate.
Romeo & Juliet aficionados appreciate the many memorable events leading to the climactic secret wedding of the world's famous couple. With the passing of the Federal Reserve's recent interest rate increase last week on July 27th, the stage is set perhaps for an interest rate outlook showdown when the Fed next meets on September 20th versus a possible pre-announcement by the NBER establishing if the US has entered into a recession.

While the recession debate itself may be of secondary importance, its equity market impact could be of greater import. If the NBER conclude a recession has started, the Fed could pivot from its current t rate hike trend allowing investor animal spirits to again fuel an appetite for equities. Inaction by the NBER will enable the Fed to maintain its current hawkish rate policy stance, though some solace may come from a reduced rate hike pace.

As noted last month, we are in the minority camp which believes the US entered a recession earlier this year. Until we get further clarity, equity markets we expect will continue with strong moves within a broad trading range.

Inflation Watch: Inflation expectations remains another pre-eminent data point which will impact equity performance in the foreseeable future, as well as, weighing on related market impactful events, such as potential US legislative reforms and the November mid-term elections.

As seen below, the positive reading could be that Core CPI figures may have peaked. The negative is that it remains at elevated levels. Fed Chairman Powell has two months to discern the fourth quarter direction of Energy and Services prices, which remain problematic. While we don't anticipate much change in either due to structural issues, thus, limiting possible Fed easing, a recession acknowledgement would offer sufficient political cover for an altered dovish stance.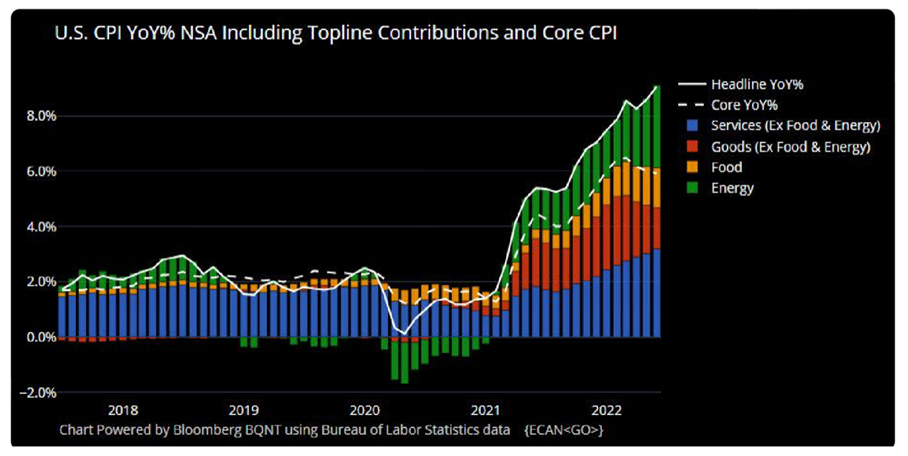 For the month of July equity markets turned in their best monthly performance in 2022 led by NASDAQ up 12.4%. Most global markets gained between 5%-10% during the month; Chinese-related market continued to weaken. The large monthly gain took some of the YTD sting out of equities but full year results remain in market correction territory. We ascribe July gains principally to rising investor confidence in the Federal Reserve's commitment to get ahead of inflation trends.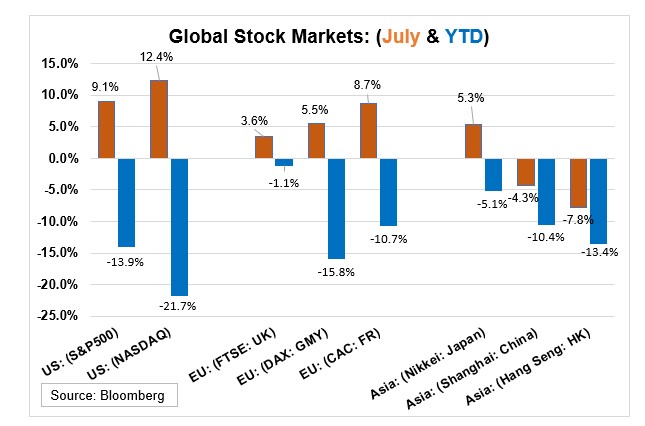 Reach out to us if you need assistance creating an effective diversified investment strategy for current conditions (and the long haul) or if would like to discuss any of the following in greater detail:
Our forward twelve-month Equity Market Outlook.
Strategies to mitigate monthly equity volatility.
Identifying your portfolio's current expected risk/outlook level.
Enhancing your portfolio's performance.
Capital gains tax optimization.
Or any other personal Financial Planning and Retirement Savings needs including Insurance (Life, Disability, Group Health), College Planning/529 Plans, Wills and Estate Planning.
Small Business owners, we can help you with employee retention creating low-cost 401K and Pension Plans and Group Medical Health Insurance.
Feel free to share our views with family or friends who are also confronted with these important Wealth Planning decisions. MRA Advisory Group and I are ready to discuss all your investment concerns to best position your Retirement Goals.

We offer a broad spectrum of low cost, custom tailored, subscription services.

Your answers and solutions are one click away! To get started with Nick click here – https://mraadvisory.com/nickpirsos/

Advisory Services offered through MRA Advisory Group, a Registered Investment Adviser. It is general in nature, is not a complete statement of all information necessary for making an investment decision and is not a recommendation or a solicitation to buy or sell any security. Investments and strategies mentioned may not be suitable for all investors. Past performance is no guarantee of future results. Nothing herein, nor any attachment, shall be considered to constitute (i) an offer to sell, nor a solicitation of an offer to purchase, any security or (ii) tax or legal advice.